Are you thinking of outsourcing some of your work to another country to save money? Maybe you should be thinking of insourcing instead.
There's a general belief that offshore outsourcing is only for big companies, and that Shared Service Centres are only for really big companies.  However, that doesn't need to be true.  Even quite small operations can be viable.  And importantly, the economic benefits will improve overall business profitability from the very first year – and the enhanced quality of service can accelerate growth.
Risks of outsourcing for small companies
It's true that outsourcing probably carries more risks than benefits for a smaller company, unless the work being offshored requires a sizeable existing infrastructure, as is often the case with IT.  The most commonly cited risks are variable quality and poor customer perceptions, but the real problem that emerges for most businesses is lack of control – outsourcing creates a reliance on third-party management and increases certain risks such as IP security.
Outsourcing companies will tell you what they think you want to hear
Every business executive hates "people who tell me what they think I want to hear" – and such people are prevalent amongst the owners and managers of offshore outsourcing operations.  As a result, customer companies often get a distorted view of staff quality, turnover and productivity, and can be badly misled about costs and other matters.
So, if you're committed to outsourcing, or think it's the best solution for you, it's essential to keep a close eye. 
Use an independent and knowledgeable audit service and, better still, carry out frequent, unannounced and detailed visits of your own.
There is a better solution.
Most outsourcing risks can be eliminated by setting up a wholly-owned or Joint Venture overseas company (turning it into "insourcing").  This can be practical and economic with initial staffing of as few as 8-10 employees.  Pick the right local manager, and you don't need to transfer your own management as "expats" (read our article about expats here).
Essentially, you're picking another country to move work that you might otherwise outsource, or perform work where skills are scarce and expensive in your home country but relatively plentiful abroad.
Benefits of Insourcing – Shared Service Centres
Businesses that switch from outsourcing to "insourcing" overseas, or create an offshore Shared Services Centre, will benefit immediately from taking control.  They also reduce costs through eliminating outsourcing BPO supplier margins, that are usually huge, and dramatically improve staff motivation and retention.
Furthermore, such insourcing brings other benefits.
Since ownership opens the way to employing higher skilled and qualified staff, businesses can migrate work that wouldn't be considered for outsourcing, and so increase operational cost savings.
By thinking ahead and choosing a strategic destination, the new overseas company can also become a base to market products and services to the country and regional markets, expanding its global business.
Although most executives would agree these advantages, many don't proceed further, either because they perceive it would be too expensive, too difficult or both.   But it's not so expensive if you use the right resources.   And it's not too difficult if you have the right help.
If you're unconvinced about the costs, take a look at this chart .  They're actual figures for similar 8-person clerical operations. The first bar is for buying services from a commercial outsourcing operation in India; the bar on the right are the costs for an in-house operation in the UK. In-between are the costs for an insourced operation in India, China and Brazil. You may be surprised by the different costs! I'll be writing separately about the cost comparisons between the different countries in another article.
Comparison of costs of outsourcing v. actual operating costs for a 8 person insourced operation in India, China, Brazil and the UK
My own experience of starting small operations from scratch in countries such as India, Brazil and China, overcoming the bureaucracy, cultural, management and economic issues in each, and nurturing each of those operations to a large critical mass, convinces me that other businesses too can expand abroad, successfully, quickly and affordably, starting small, with minimum risks.
International Expansion is easier than you may think!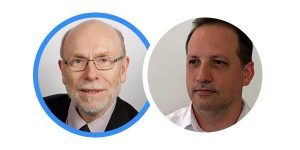 Click here to listen the episode: How Shared Service Centres Add Value to Business with Nelson Gonzalez #17
Nelson Gonzalez is the General Manager of Travel Leaders Group's Global SSC in Montevideo, Uruguay. Under his leadership, the SSC provides ITO, BPO, and KPO services to all of Travel Leader Groups' businesses and brands. Mr. Gonzalez's career spans over 20 years within several industries, including, Travel & Leisure, Software Applications, and Telecommunications. He holds a Bachelor of Science degree in Business Management and a Master of Business Administration.
Do you want to talk about this?
Oliver Dowson offers subscribers to growinternational.org free initial consultations on outsourcing, insourcing or any other aspect of international expansion – just get in touch with him via our contact page