An extract from "Who ordered the battered cod? – A guide to the business of exporting" by Douglas Jackson. In his book, Doug shares his experience as an export sales manager in many countries of the world and sets out serious lessons worth learning.
One of my early export trips was to Dar es Salaam in Tanzania. We had an established distributor there, a Mr Patel who had originated from Uganda and fled to Tanzania during the Idi Amin years.
Mr Patel was now a respected businessman, representing many UK companies including JCB. My company's product catalogue included a new range of automotive accessories such as foot pumps, tyre pressure gauges and tread depth gauges. It was with this last product that Mr Patel taught me a lesson about understanding and targeting your market.
We were sat in his dark and dingy shop in downtown Dar, surrounded by shelves and shelves full of different products from all over the world. We discussed how we could support him in his local market, and I began talking about the new automotive accessories that we had successfully launched in the UK through Halfords.
The streets of Dar es Salaam were much as I had experienced in India. Total chaos, a cacophony of horns and shouting and hundreds of cars, bicycles and mopeds all vying for the same space. Most of the cars were 'pre-owned' Nissans from Japan, all of which had seen better days.
As I spoke about the foot pumps and gauges I could see Mr Patel's interest rising. He suddenly jumped up and said, "Come Mr Doug, I have an idea". I grabbed my bag and followed him out to his own battered old Nissan Cherry and we careered through the streets and out of the city, scattering pedestrians and other road users along the way.
His Nissan's climate control consisted of opening all the windows and the sun roof, which simply caused the 40 degree air to hit you at speed instead of wafting gently around you, creating a fan oven effect. When we arrived I was nicely baked like a jacket potato.
Our destination turned out to be the Dar es Salaam Transport Police Department and Mr Patel told me that the boss man was his friend. We announced our arrival to the policeman behind the counter who appeared to be asleep, but waved a lazy hand towards a wooden bench opposite. We sat there for a while, surrounded by a few ne'er do wells who were obviously in some trouble for traffic offences, although I don't know what you would define as a traffic offence amongst the total anarchy on the roads in that country.
Eventually, still sweltering in airless high temperatures, we were ushered in to see the Commissioner of Traffic Police. Again, we were waved silently into a couple of chairs in front of the great man who did not look up from his papers. There was an electric fan on the ceiling moving the hot air around, and a few flies sat on it cooling off. A photograph of The Queen was hung on the wall behind him which I took as a good sign.
After what seemed like five minutes he eventually raised his eyes to look at us both. He asked Mr Patel what he could do for him today and who I was. He was a huge man, his ebony face shiny with sweat, understandable as he was dressed in full regalia, with masses of braiding on his shoulder pads and an impressive hat.
I felt that I had walked onto the set of an Eddie Murphy movie.
Mr Patel introduced me as Mr Doug from the UK, who wanted to talk about some exciting products that may be of interest, especially a tyre tread depth gauge. At this point Mr Patel kicked my shin. Well, thanks for the briefing Mr P, I thought as I quickly gathered my thoughts. Why would the traffic police want to buy foot pumps and tyre gauges? Maybe a handful for their patrol cars I supposed. I was beginning to wonder why Mr Patel had brought us here.
I introduced myself and started to tell him about foot pumps, but got another sharp kick in the ankle. Mr Patel hissed into my ear to tell him about the tread depth gauges. With hardly a pause I started telling him about the tyre tread depth gauge, a really exciting product. I passed him a sample, which he proceeded to toy with, a little too insouciantly for my liking.
I told him that in the UK there is a regulation that you have to have a minimum of 1.6mm of tread on your tyres. He straight away told me that they didn't have such laws in their country and therefore the product would not be of interest. He tossed the gauge back over the desk to me and my heart sank. As I thought, we were just wasting our time and I began to wind up the meeting. I received yet another blow to my blackening shins.
Mr Patel was excitedly urging me to tell him what happens if the police stop you in the UK and you have bald tyres. I told the Inspector that the police in the UK can fine you £60 on the spot and issue you with penalty points.
At this stage our policeman friend's eyes widened, and a huge smile spread across his face like a sunrise as he reached over the desk for the gauge. He asked for clarification that the police take £60 cash from the driver, on the spot, with no paperwork.
I confirmed that they issue a ticket, but the fine can be taken there and then, in cash. I was now warming to the task, and finally catching up with Mr Patel's marketing strategy!
He bought 5000 gauges on the spot and we both tumbled out to the car, high fiving each other, or whatever one did as an equivalent gesture in those days.
I told him that had been an inspired approach and asked what had put the thought in his head in the first place. He told me to take a look at all the cars parked alongside the building: all of them, without exception, had totally bald tyres. Place that fact alongside an enterprising traffic police department, and you have a ready market for tread depth gauges. Who'd have thought it?  Well, Mr Patel of Patel Enterprises, Tanzania for one.
Fortunately I was leaving Dar es Salaam the following morning bound for Kenya, so I did not have to face the ire of the hundreds of motorists I was leaving behind in Dar who would soon be facing the prospect of clutching traffic violation tickets, and witnessing Mr Murphy and his team trousering handfuls of Tanzanian Shillings as the new unofficial regulations were enforced.
This taught me a huge lesson in the importance for an export sales manager of understanding the local market, and that your customer may not be where you expect to find them. In my book we look at channels to market in terms of agents and distributors, but this was a great example of the value of a well informed and connected partner on the ground. I would never have been able to unearth this opportunity, or to get in to see the Chief of Traffic Police in Dar, on my own.
You can buy a copy of Doug's book for £9.99 from Amazon https://amzn.to/2qLYJjN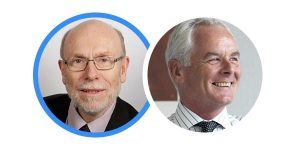 Click here to listen the episode: Insights Into Exporting with Douglas Jackson | DNA Business Engineering #21