One territory that definitely qualifies as "off the usual business radar" is Palestine. It's clearly not a valuable export market. But, for businesses active in the Middle East, or looking at expanding there, there are some real opportunities to take advantage of its positioning as a hub.
Graduates need jobs
Thousands of IT specialists graduate every year. However, very few new tech companies are being established, so most of the graduates end up being part of the 32% unemployed.
So there's a particular need for new businesses and mentors who can not only add experience and resources, but also provide credibility for accessing new clients and markets. The West Bank is remarkably stable, has lower costs than much of the Middle East. Partnerships between experienced entrepreneurs and talented Palestinians therefore have the potential to create successful, profitable companies.
One such success story is Transcend, founded by partners from the UK, USA and Palestine and with follow on investment from the Palestine Investment Fund.
Outsourcing to Palestine
Transcend grew out of a vision to use the strong language and IT skills in Palestine to create jobs, skills and service exports unaffected by movement restrictions. The three founders were Nassim Nour, a Palestinian business person with experience of working internationally; Jerry Marshall (our guest on this podcast), a UK technology and social entrepreneur who had been involved with Palestinian businesses since the mid-1990s; and Russ Sandlin, an American who managed the award winning Gulf Bank call centre in Kuwait.
An 88 seat contact centre was built to international standards and the company opened for business in 2012. The core business is serving clients wanting to find and support customers in the Middle East using social media and bilingual English / Arabic voice contact for sales, customer support and research. Venture Capital investment in 2013 enabled the company to recruit a senior management team and grow a successful software development arm.
Following that, a further initiative in real time customer feedback kiosks is being developed. Transcend is now a profitable company with 120 staff across the West Bank and Gaza, serving clients in the Middle East, USA and Europe, and expects to grow to 1000 staff over the next few years.
The business has undoubtedly been successful in achieving its aims. A Middle East client believes Transcend is achieving a 600% ROI on sales development to the GCC states, while a US client described the software development team as "High calibre IT professionals who were highly productive and creative."
The founders believe that part of the business' success comes from encouraging and respecting staff. "I feel like management trusts my decisions and supports me in my daily work," said Rozet Najajrah, who was regularly "Agent of the Month" and is now team leader for a wellness programme. "I love the open door policy and flexible schedule, I work with people who are intelligent, fun and responsible… we are all working toward a common goal."
An International Partnership
Another element of success is the international nature of the partnership. "Palestine is a stable economy with a young, well-educated and IT savvy workforce", says Jerry. "Strong local leadership is essential but there is an openness to Foreign Direct Investment and there are incentives to encourage investment and growth. Furthermore, international partnerships bring a broader perspective and wider range of contacts and opportunities."
"The World Bank report rings true: there is an immense pool of talent, incubator and accelerator programmes, and good access to venture capital; but there is a particular need for experienced business mentors and angels."
So, for businesses looking for software development, customer service or other skills, especially to take advantage of English-Arabic bilingual staff, getting good value and applying Corporate Social Responsibility, Palestine could be attractive. Listen to Oliver's conversation with Jerry, and judge for yourself.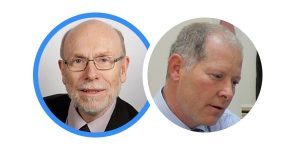 In this podcast, our host, Oliver Dowson, is in conversation with Jerry Marshall, Chairman of Transcend, a company founded by partners from the UK, USA and Palestine and with follow on investment from the Palestine Investment Fund. In this Grow through International Expansion podcast Jerry tells us about what they're doing and why, and introduces the opportunities for overseas companies to tap into that talent pool.
Click here to listen to the podcast
Want to discuss this article or anything else relating to international expansion? The author, Oliver Dowson, welcomes comments and offers subscribers to growinternational.org free chats and introductory consultancy – just get in touch using our contact page