by Oliver Dowson, Host at Grow through International Expansion
There's always been disruption in business. It must have been a hard time for scribes when Gutenberg invented the printing press around 600 years ago, and for carriage makers when Ford brought in the Model T. But everyone can agree that things have never been changing as fast as now.
Established business models are being torn up.
The fundamental disruptor, directly or indirectly, is technology. Think — email has only been with us for 20 years, the smartphone for 10, social media for 5, and most of the (literally) hundreds of thousands of apps for just months. Nobody any longer expects the devices and apps that we've become reliant on to stay the same, even for a year. Change today is relentless.
The challenges for established businesses trying to re-invent themselves and win from this disruption are huge.
A lot of famous names have gone to the wall or been forcibly downsized by failing to change. No CEO wants their company to be the next Kodak or Polaroid. But changing a business, a brand, thousands of employees and massive capital investments to do something different can be like turning the Titanic.
What makes the challenge more complex is that new technologies are disrupting businesses that never had to cope with them before; most managers don't fully understand what's happening now, let alone what's likely to hit them next. For example, few CEOs today properly understand blockchain, and fewer still the relevance to the future of their business. Since no trusted source can advise them of the benefits of investing in such technology may be with any certainty, disruption compounds, and almost invariably delays future action.
There is little point in just reactively addressing changes that have already happened — what's needed is to prepare and be ready for what comes next. But how to foresee the future? Crystal balls don't work, R&D is often out of date the moment it's completed and, in my experience, most soothsayers, aka management consultants, are little better.
So I was really impressed to be presented with a distinctly fresh approach, developed by Propelia, around a terrain they identify as the 'Almost Now'. Essentially, it's a form of structured consultancy, working with the executives of agencies, brands and organisations to redirect resources and adapt to be ready to lead and excel in the disruptors coming round the corner that affect the 'Almost Now' of their sector.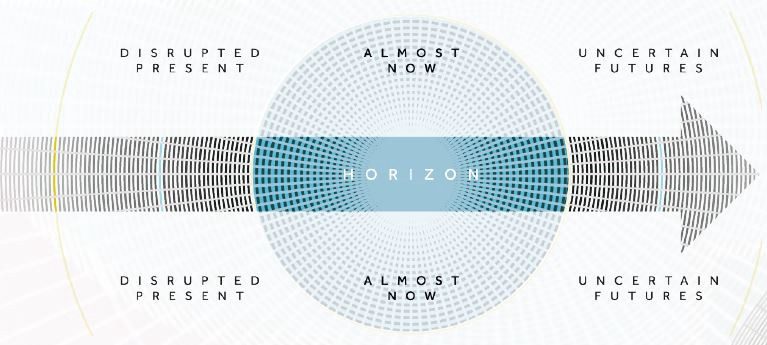 Propelia achieves this through a carefully curated four stage client engagement structure. This is driven by a small team of pioneers, trailblazers and innovators, specially selected for the project. Each one will be a unique thought leader in one or more of the critical disruptors in those sectors where the client, be it agency or company, are currently trying pitch for, retain or win business. They have a special and very suitable name for such people — 'Propellers'.
So if, for example, a business is confronting an apparent need to adapt to Blockchain and Artificial Intelligence, the Almost Now Airspace process will be driven by Propellers expert in those fields. Importantly, they're not academic consultants, but business people, young enough to be technologically savvy, but mature enough to understand the realities of commerce. They're the ones already practically experimenting and exploring the Almost Now of their sector and with the hands-on experience to navigate disruption; engaged properly through this process, they bring clarity to the client's dilemma.
The Disrupted Present often causes panic.
The Uncertain Future is too vague and far off. But the Almost Now can be engaged with, and must be addressed, by those responsible for the future of their business.
Because the Almost Now can't wait, Propelia's process is designed to achieve results really quickly — within weeks rather than months. And instead of resulting in a ton of follow-up studies, it always delivers a tangible solution, already owned and bought into by the management team and ready for immediate implementation.
I've worked with good businesses that failed to change, so simply faded and failed. I've met consultants who charge top dollar, but only tell you what you already know, or — worse — leave you feeling that they know a deal less than you do. The Almost Now process is really different — and, as you've gathered, impressed me.
My own company, International Corporate Creations Ltd, encourages others to grow and succeed through international expansion. But the Almost Now should, in my opinion, be considered by every type of business that wants to survive and grow, regardless of their global ambitions, as disruption is everywhere.