Hiring a Global Sales Manager – or any international sales person – isn't easy. This article by Zach Selch of Global Sales Mentors, writing from his personal experience, explains.
Those of us who are in the vocation of Global Sales Managers could say that one of the key elements of our job is to hire and onboard sales managers. We can't do our job without our sales assets, and if we cannot hire, train and maintain the right people, we cannot perform.
I recently had personal experience with how incredibly expensive hiring the wrong person can be – I hired a dud and it cost me millions in lost sales, as well as a huge amount of time, angst and effort on my side to deal with helping him exit and with keeping his territory working.
It can be very difficult to hire a top performing sales person or manager.
When you add to that the international element, it becomes a huge task. Sales people and managers, often have big egos; can have some of the same issues that highly creative people have in terms of mental highs and lows; can have some interesting quirks that actually add to their performance and sometimes can have learning disabilities (I have known some great sales people who were dyslexic, for instance).
On top of that, there really isn't a standardized school curriculum or certification for sales people. As have most of us, I have known top performing sales people from a wide range of backgrounds: doctors, engineers, musicians, business majors, college drop outs, technicians, and a wide range of other backgrounds.
If we selected or rejected all sales applicants based on their educational background or qualifications, we would be missing out on a great deal of talent.
Crossing cultures
When you add the international element to that, it becomes more difficult by an order of magnitude. If you are an American, or a German, or a Japanese, or an Brazilian, and now you are interviewing an Indian, or an Arab, or an Italian or a Norwegian, and the very traits you are looking for are those that would make this individual fit in well with their culture, you are in a position of weakness. The traits that we might look for in a sales person who is very successful in the Middle East might make him a disaster in Norway, and vice versa.
Another difficulty is when we are not familiar with how the local customers purchase, or if there will be a range of purchasing models in the assigned territory. If we are familiar with one (say American) customer mindset for purchasing, and we have built our sales process to mirror that, then we may very well be looking at the requirements for the job incorrectly. How do we divide up the sales process? Who will carry out what part? Which elements of the process, exactly, will this person be carrying out and which will they be managing or delegating and which may be supported by HQ? It's key to be able to build this model for each market under the responsibility of this Sales Manager before you start.
Let me tell you about an approach I used that proved successful.
Building models for global sales
I started out by building a customer mind model for how they purchase, for all the various markets that a Regional Manager would operate in. As I sell to both government and private sector, that meant two models for each market. From this purchasing model, I built a sales process model – obviously a draft at that stage, but a starting point. I then used these models, along with my knowledge of existing distributors, and what I know culturally and economically about the markets to determine the strength and weaknesses of the existing support team.
I then built a picture of the activities that I want my Regional Manager to handle – things like distributor management, leading the sales process, coaching sales people and identifying gaps in the skills, abilities and coverage of the partners' sales teams. Then going into more tactical things: helping improve prospecting; presenting to large accounts; being the face of the corporation in the territory. This was a difficult and strenuous job, so tenacity, endurance and time management were also important. I was able to build a picture of what I was looking for, and to rank the comparative value of the various components of this picture, as well as deciding what I couldn't live without and what I could.
Preparing to interview for global sales
About half of these were traits, and I tried to put together performance structured questions that would help me identify the presence or lack of them. The other half were specific experience; for instance, I asked for more than 10 years' of selling healthcare in Latin America, experience of selling in more than one country, experience in managing distributors, experience as a distributor. I put together a list of performance questions that would help me tell if a person really had the experience I needed.
Once I had this, I crafted an ad. The first 200 words described the position. This was a very attractive and excellent position, so I wanted to make that clear. The next 200 words or so explained, in detail, what I was looking for. I advertised in a trade magazine (2 replies), Linked In (about 250 replies) and Monster (about 100 replies). Linked In proved to be a great resource, but I also got a great deal of junk – about 100 of those replying were completely and totally unfit.
As they poured in, I sorted out about 50 of the best replies. All of these had, on paper, the solid experience in healthcare sales in Latin America I was looking for. They were all in a city with a good airport. They were all fluent in Spanish and English, and about half had some Portuguese. Almost all of them had an MBA (not a requirement, but not a bad thing), and about half of them had engineering degrees (again, not a requirement but not a bad thing).
I then set up and executed 35 telephone interviews, each set for 30 minutes. There were 8 very set questions, asked without giving any chance to deviate or change the structure. The first four were very specific questions about the person, to understand what was important to the candidate. I was looking for the character traits I had listed as important – competitive, self-motivated, a driver, proud, with an interest in family (a good reason to earn money) and money. I have hired, at various times, people who were not driven and ambitious enough, and I wanted to avoid that.
The next two questions aimed to ascertain the truth of the sales history they'd set out in their resumé. A lot of people in sales and marketing blend the lines between actual sales and management, and while I understand that everyone needs a chance someplace, it isn't my job to give people their first position in sales. I was looking for people with very specific experience. If I could avoid it, I wasn't going to waste a face to face interview with somebody who didn't have the correct experience. My questions were very specific around activities that they should be able to describe in detail if they had really done them.
The next questions were to see how they would fit in with the team – "describe a conflict with your boss and how you resolved it" and a similar one about team dynamics. I run a tight ship and I like team alignment and value chain of command, and so I wanted to check for that.
When I called people I set myself up with their resume, a list of the questions, a pad of graph paper, a pen and a red and a blue pencil (the last bit is my normal note taking tools). About half the interviews went the full 30 minutes, but where I came across any warning signs I ended the interview early.
If somebody could talk about what was important to them for 10 minutes without mentioning a great sale that they had closed, or a sales mentor, or the rush of closing a sale, the interview was over. If they couldn't describe a work day or work situation in a way that I liked, the interview was over. If they were a poor fit for my team, ditto.
Two examples were notable. One person, describing his normal work day in Sao Paolo, said that he would visit 5 or 6 hospitals every day. Now, anybody who has been to Sao Paolo knows that that is pretty much impossible due to the size of the city and the traffic. Another candidate, when asked about a conflict with his boss, said "once I had a plan which my boss didn't like, so I went to my boss's boss to get approval, and then it was a success. So I was able to rub my boss's face in the fact that I was right, I love being right!". Needless to say, I didn't really want him on my team.
There were a couple of others that weren't so glaring – for instance a person who mentioned pulling their boss into difficult meetings with distributors on a regular basis. I need somebody who can handle that most of the time without me, so that wasn't a fit.
At the end of these interviews, I had about a dozen that I decided I would meet. I had each of them do an online test that included psychometric profiling.
I scheduled to meet them each for a 2 hour session in a hotel meeting room, in one of 4 cities. I set no more than two interviews a day, because I figured that they might go over, and I wanted time to go over notes and to refresh my mind a little between interviews.  I was set up in a similar way to the phone interview with the addition of the notes I'd taken and the online personality test results. I asked each to bring me 6 references – 2 ex-bosses, 2 colleagues and 2 customers or distributors. That allowed me to ask, during the interview "if I was to ask John the same question, what would he say?"
Aside from two of them, all of the interviews were fun and ran smoothly. In a couple of the cases, the candidate seemed a little uptight, so I took them out for a meal to give them an opportunity to be a little less stressed, and present themselves in the best possible light.
A couple of interviews ended early, because I identified something early on that I wasn't willing to get past. About six of them were worth meeting one more time before I left town, mostly for a meal. Eating with them gave me an opportunity to see them more relaxed and in a more casual setting.
My questions tended to flip between situational ones, like "tell me about a time when you had to push a distributor into an action that he didn't want to follow" and operational such as "what is your preferred type of communication and what would you do if your boss didn't like to communicate that way?". The only opportunity for free flow or for the candidate to lead the conversation was in the first few minutes of the interview, when I said "tell me the 3 most important things that you want me to know about you". Aside from that, I was careful not to let them lead the conversation away from my path and I didn't offer any feedback, I even tried not to smile, frown or laugh, because I didn't want to influence them to try to please me.
By the end of the interview process, I had 5 good solid candidates, each of whom I was sure could be an excellent fit to my team and company and could do the job well. Now I had to weed that down to the best.
I called two or three references for each of those five, following questions that had come up in the face to face interview.
At this point I prepared a pro and con sheet, listing all the traits and experiences that I was looking for, and rating each one on their answers, their resumes, the points raised by the references. It was difficult cutting that list down to just two, but I felt that doing a third round with more candidates was unacceptably indecisive.
I also asked one of my Latin American distributors to talk to each of the final candidates on the phone, and I asked each of the other members of my team to talk to each candidate for 3-5 minutes.
The final shortlist
At this point I brought in each of the two candidates, on separate days.
I asked them each to prepare a short, 5-10 minute presentation based on a material I sent them, comprising a powerpoint, a video of me presenting and some product info.
The day was set up with a factory tour and a half hour with me, to cover questions that had come up with the references and when I was going over the pros and cons. Then we had a 90-minute panel interview, starting with the candidate doing a 5-10 minute presentation, then a round robin with each of the panel (another RM, a production engineer, a service engineer, our marketing director) asking questions.
After the panel interview my boss interviewed them, and then a person from HR. As you may have noticed, HR was absent from the process until this stage. The people on my HR team are not very used to hiring sales people, so I took a lot of the heavy listing myself, but I did want to make sure that HR checked them over for things that I might miss. I had my assistant, who speaks Spanish, escort the candidates around all day. I have had experience with international sales staff not following our standards of ethics and diversity, and I used this as an opportunity to get a feel for the candidates' cultural fit.
I asked everyone who participated in the day to fill out a form that asked about each of the traits that I was looking for, grading them 1-5 on each.
In the evening, I took them out to dinner. As my Spanish isn't very good, I had somebody with excellent, upper class Colombian Spanish join us for dinner as a surprise. This allowed me to verify the quality of their language.
While, before the final round, I had been very torn between the last two candidates, the last day made it very clear who the best choice was.
While this was a long and expensive process, I believe that the value of it, in terms of getting the correct sales asset was worth every penny and every minute. Time will tell.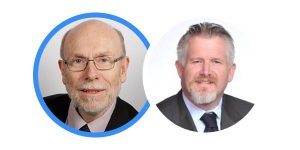 So how do you get this critical element of your international expansion right? In this podcast, Zach Selch is talking with our host, Oliver Dowson.
Zach Selch is the VP Global Sales for a high tech medical company and coaches and mentors Global Sales Leaders. Over 30 years he has sold in more than 135 countries, lived in 6 countries and has driven sales growth, adding hundreds of millions of dollars to the value of companies by building their international footprint.
Click here to listen to the podcast
Like to discuss this or any other aspect of international expansion? GrowInternational.org subscribers can get free advice – just get in touch using our contact page