Opportunities Across the World at Going Global 2019 #52
Walking around the Going Global exhibition in November gave visitors the opportunity of talking with representatives of many different countries. As you, our audience, know, here at Grow International we're firm believers that international expansion to any country in the world can bring real benefits and, specifically, add value in different ways to many kinds of business. Every country, though, brings its own individual opportunities.
Our host, Oliver Dowson, writes: "Most of the countries exhibiting were there, I think, simply because they're not the ones that business people naturally think of when they're considering expansion. And I love what I call "countries off the usual business radar". So often they can bring a company better value than the more mainstream developed countries – there's less competition, the market may be nascent and ripe for development, and it can be easier and cheaper to hire skilled and enthusiastic workers".
In visiting the stands, Oliver took the opportunity of recording short conversations for our Grow through International Expansion podcasts, asking the sorts of questions that interested business people would be asking if they wanted to be convinced of the value of a country to them. In this podcast, we're featuring four of these conversations, talking about some very different countries.
SEYCHELLES
This episode starts with Oliver's conversation with Cindy Vidot from the Seychelles. Oliver said "I've worked with businesses on international expansion to dozens of countries all around the world, but I confess even I had never thought of the Seychelles as anything other than a luxury tourist destination. Talking with Cindy, I found out that, whilst tourism is the basis for a lot of business opportunities, there are plenty of other interesting options"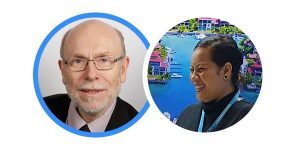 SAUDI ARABIA
It's not just oil – apart from all the diversification that's on the agenda there, it's a huge and growing market in its own right. Maybe the size of the country and its high profile in the news would make one think that it doesn't qualify as "off the usual radar" – but it's only in recent years that foreign companies have started to set up there.  Oliver's conversation is with Jim Tanner, who runs AEI Saudi and helps those foreign companies expand to and flourish in Saudi Arabia.
ARMENIA
This is a very interesting country in a strategic location in Central Asia, bordering the Black Sea and sandwiched between Georgia, Turkey and Azarbaijan. It's a country that has been relatively closed to outside business until recently. Oliver writes "I visited there myself two years ago, and Foreign Direct Investment was really only just getting started then. Clearly, that situation has moved on a long way very quickly. Armenia has really started to open up and there are some great opportunities for FDI and business, as I found out in talking to Karina Sargsyan"
CROATIA
This is perhaps another case like the Seychelles inasfar as most people think of it as a holiday destination. But of course, it's much more than that. It's one of the most recent members of the EU, having only joined in 2013, and is not yet in the Eurozone – and perhaps that's why it's off most business people's radar. From the perspective of business and FDI, Croatia offers some interesting opportunities and incentives, as Oliver found out in his conversation with Miljenko Juratovac. He was at Going Global representing the counties in the northern part of Croatia, inland and away from the peak tourist destinations.
In the next Grow through International Expansion podcast, rather than talking about whole countries, Oliver will be meeting the representatives of some regions of developed countries that are jostling for our attention.
More details can be found on the links below.
LISTEN NOW
Contact details and Links
ARMENIA
The Ministry of Economy of the Republic of Armenia website is www.mineconomy.am
Details of the new eRegulations Armenia platform, a guide for businessmen who have plans to start and expand their businesses in Armenia, can be found at https://armenia.eregulations.org/
SAUDI ARABIA
Jim Tanner represents AEI Saudi, website: https://www.aeisaudi.com/
SEYCHELLES
Seychelles Investment Board website https://www.investinseychelles.com/
CROATIA
The official Croatian website is http://investcroatia.gov.hr/en/about-croatia/
Miljenko Juratovac represents the Croatia Chamber of Commerce, their website is  https://hgk.hr/ but is not available in English
Similar works
Any facts and opinions presented in this content are those of the author or speaker. The inclusion of this content on the Grow through International Expansion platform does not imply endorsement by the platform owners of such facts and opinions nor by any business represented by interviewees or contributors. Whilst every care is taken to check facts and figures, we accept no responsibility for their accuracy. Please advise us of any discrepancy and we will endeavour to correct the information as quickly as possible.