Chosen the Country? Now Pick a City… Going Global 2019 #53
When you're planning international expansion, deciding on the country isn't enough. Next you need to choose a city or region – and there's a lot of reasons to consider and, in the bigger countries, a lot of alternatives to consider.
Obviously, the priorities depend on what sort of business you're in and what you want to achieve in the country you're expanding to. But the fundamentals are almost always the same.
Costs are always critical – and you know from your own home country life experience that salaries and property costs can vary widely from one place to another. In many countries, local tax rates – not just on property but on wages and services too – are a big variable too.
The location needs to be accessible from your home base. There are plenty of reasons why you'll want your teams to be able to travel between locations, and unless other reasons take priority, you'll not want to choose somewhere that involves hours of land travel or where there's little or no public transport.
If you're setting up a sales office or another type of operation where there'll be a need for a lot of domestic or regional travel, you'll need to be centrally located and near a good transport hub.
If you're going to be manufacturing, you'll need to be convenient to your supply chain. If you're in a service industry, you may need to be in the capital city or even in an impressive location.
A key concern, of course, is staffing. Can you hire the quality of people that you'll need?
Then there's premises. Can you rent or acquire what you need at a reasonable cost? Is there scope to expand when the business really lifts off?
So there's an awful lot to think about before you can get started. And a lot of choice. Just like every country wants to attract inward investment – in the form of your business – so do individual cities and regions. What drives them could be as simple as wanting generic growth in their regional wealth. Others need to try to resolve local issues such as high unemployment through attracting new companies to their region.  To encourage businesses, many offer incentives, ranging from tax breaks to cheap land.
There were several cities and regions exhibiting at Going Global, and in this podcast we're featuring conversations that our host, Oliver Dowson, had with representatives of three of them that, between them, illustrate all these points.
The first two are both in Spain but are very different.
LA CAROLINA
First up is La Carolina, a small city and region in the province of Jaen in southern Spain. It's unlikely you'll have heard of it – the town itself has a population of less than 20,000 – so, to attract new companies, they really do need to get themselves noticed. They're primarily looking for new industry to solve the unemployment situation. Oliver's conversation is with their Manuel Mondejar.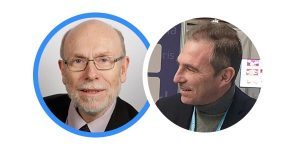 BARCELONA
You'll definitely have heard of that! Despite being a huge city and urban region where hundreds of large and small businesses have already set up, they're still anxious to attract more. There's perhaps a political motive here too, as Barcelona may be Spain's second city but it's the capital of the autonomous region of Cataluna, and, as you'll probably be aware from news reports over the last 18 months, there is a very strong independence movement there.
Without getting involved in politics, but that does bring up another interesting consideration for companies looking to set up new international operations. Will Cataluna become independent in the foreseeable future? If so, will it still be in the EU? If your company set up there now and the region became a different country, would that affect your business? One could ask the same questions of other regions of Europe where there are strong independence movements, such as Scotland.
But for now, Barcelona is definitely in Spain, and there are a lot of attractive reasons for setting up there, perhaps especially for service sector companies. Oliver's conversation was with Francesc Miron.
TOULOUSE
Finally for this episode, and moving a few hundred kilometres north of Barcelona, we switch country to France and to the city of Toulouse. It's another big city with a lot of attractions. From the business viewpoint, it's perhaps best known as the headquarters of Airbus. The city is motivated to attract international business both to grow the wealth of the city and also boost employment, and it's perhaps a destination that's equally attractive to industrial and service sector companies. At the exhibition Oliver met and talked with their representative, Caitlin Champion.
If you'd like to know more about La Carolina, Barcelona or Toulouse, you'll find links and contact details on the page that accompanies this podcast on growinternational.org or on the Grow International app.
We only scratched the surface of this topic – there are lots of other cities and regions out there, in Spain, France and other countries, all with different attributes to attract foreign direct investment. If you'd like some thoughts on other places, get in touch with us. Oliver would be happy to help where he can, or point you in the right direction for good independent advice.
More details can be found on the links below.
LISTEN NOW
Contact details and Links
TOULOUSE
At the heart of Europe's aerospace, aeronautics, and NewSpace hub, the Invest in Toulouse agency assists international companies with the development of their operations in Toulouse; confidentially and free of charge.  #1 in concentration of researchers and a leading region in Europe in R&D, Toulouse is also witness to the cross-fertilization of technology and robotics in the health sector.  Thanks to this phenomenon, the city is paving the way in innovative surgical and medtech solutions.  Toulouse is also making strides in the autonomous and connected vehicle industry due to the presence of heavyweights like Continental and Renault and France's national campus dedicated to AI and natural intelligence, ANITI.
Website: https://www.invest-in-toulouse.com/our-services-speed-your-project
LinkedIn: https://www.linkedin.com/in/invest-in-toulouse-a4ab767a
Twitter: https://twitter.com/I2Toulouse
LA CAROLINA
Website: www.lacarolina.es
BARCELONA
Similar works
Any facts and opinions presented in this content are those of the author or speaker. The inclusion of this content on the Grow through International Expansion platform does not imply endorsement by the platform owners of such facts and opinions nor by any business represented by interviewees or contributors. Whilst every care is taken to check facts and figures, we accept no responsibility for their accuracy. Please advise us of any discrepancy and we will endeavour to correct the information as quickly as possible.