Exploring a Variety of Business Essentials at Going Global 2019 #51
Last month, our host, Oliver Dowson, visited the annual Going Global exhibition at the London Excel Centre. It's a big event, part of the Business Show. For those who are looking at expansion, it's a great opportunity to see a lot of the professionals you'd need to work with in one place, and to get new ideas for countries and regions to expand to.
While he was there, Oliver took the opportunity of recording some short podcast conversations with many of the exhibitors, asking them the questions that potential customers would want to, and we're including many of those in a special series of our Grow through International Expansion podcasts. So if you can't wait a year for the next exhibition, this will give you a whistle-stop tour in four episodes, without your needing to get out of your chair.
The next three podcasts are themed on countries and regions, but this time here's three conversations on a variety of topics, all essential thing to think about when you're considering international expansion.
PROTECTING INTELLECTUAL PROPERTY WITH CLARE MANN
First stop was with Clare Mann of Dehns Trademark and Patent Attorneys. Every company has intellectual property of some kind or another – it might just be its business name, but some may have physical products, unique services, software or distinctive branding that's critical to marketing. Most – but not all – will already be on top of protecting that IP from possible competitors in their home country. But international expansion brings a whole new raft of concerns. The protection that's been put in place may not extend to the country you're expanding to – or you may find that there's another company already there that's using IP that you depend on. It's essential to consult a specialist early on – and Clare's firm, Dehns, is a leader in Europe.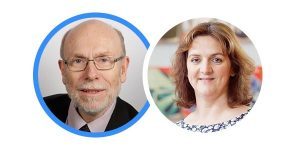 THE VALUE OF LEARNING ANOTHER LANGUAGE, WITH MARIA LAIN VALENZUELA
Changing subject completely, but still focusing on international business essentials, we come to the Spanish for Executives stand and meet Maria Lain Valenzuela.
Being able to converse in the language of your chosen country is always a good thing – but, when it comes to doing business in a non English speaking country, the value really hits home. Even where it seems that everyone you meet speaks English, there is still enormous value in understanding, speaking, reading and writing their language too. Whether it's just understanding those little side conversations that people you meet have between themselves in their own language or being able to negotiate a complex sale or contract, nothing beats speaking the lingo.
One of the most widely-spoken languages on the planet is Spanish. It's the lingua franca not just of Spain but of most countries in South and Central America. Spanish is therefore a really useful language to learn – and you'll no doubt find also it very useful on holidays!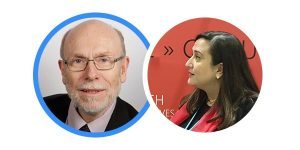 EXPANSION ABROAD, WHILE AVOIDING RISKS AND BEING ECOLOGICALLY CONSCIOUS, WITH KARRY SCHWETTMAN
Karry Schwettmann is a founder of expansion.eco, based in Berlin, so they're good people to talk to about building a business in Germany. However, they're not conventional business expansion consultants. In particular, they focus on two key issues.
Firstly, they recognise that the vast majority of business startups fail – and that's not just where they start and stay in their own home country. Many international expansions fail too – and you, our audience, will be well aware of that, as all the advice and ideas we give in our podcasts and articles are intended to help entrepreneurs avoid making the mistakes that Oliver and others have made in some of their overseas expansions, and so achieve success. We found it refreshing that Karry and her colleagues put that risk out up front to their clients and work to avoid it.
Secondly, they're heavily focused on environmentally conscious businesses – that's where the .eco in their name comes from. All of us will be painfully aware from all we see in the news of the results of pollution and global warming, and the need for us all to play our part in reducing it. Some businesses are, of course, focused on that, but really every business should be thinking of how it can address the issue, and perhaps reinvent itself.
More details can be found on the links below.
LISTEN NOW
Contact details and Links
DEHNS
Dehns is a leading European firm of specialist patent and trade mark attorneys. It has more than 200 people spread across seven offices, and with an internationally renowned reputation.  Top tier ranked by leading legal directories, Dehns has been securing and protecting intellectual property (IP) rights since 1920.  We provide and implement strategic advice on a wide range of IP issues, and file thousands of UK, European and international patent and trade mark applications each year.  Clients range from large, multinational corporations with established intellectual property portfolios to small and medium sized businesses whose intellectual property needs are constantly evolving. 
Website: www.dehns.com
Twitter: @Dehns_IP
LinkedIn: https://www.linkedin.com/company/dehns-patent-and-trade-mark-attorneys/
SPANISH FOR EXECUTIVES
Spanish for Executives offers exclusive solutions to learn Spanish for business, through private lessons, workshops, lifelike experiences and tailored programmes exploring the Spanish language and culture for leaders, C-Suite, executive board and ambitious professionals.
https://spanishforexecutives.co.uk/    
facebook.com/SpanishForExecutives
linkedin.com/company/spanish-for-executives
instagram.com/spanishforexecutives
EXPANSION.ECO
Expansion.eco is a partner to purpose-driven businesses that want to expand into new markets. Since the rate of failed market entries due to internationalisation is very high (>80 %), they apply an approach through which they help increase the odds of successful internationalisation. Expansion.eco provide market validation, piloting and expert knowledge for maximum target market transparency.
Website: https://expansion.eco/
Social Media: Instagram
Similar works
Any facts and opinions presented in this content are those of the author or speaker. The inclusion of this content on the Grow through International Expansion platform does not imply endorsement by the platform owners of such facts and opinions nor by any business represented by interviewees or contributors. Whilst every care is taken to check facts and figures, we accept no responsibility for their accuracy. Please advise us of any discrepancy and we will endeavour to correct the information as quickly as possible.