For most businesses contemplating international expansion, their first choice is the USA.
It's the single biggest destination for foreign direct investment by UK companies, and that's reciprocated. And it's much the same in the case of most other countries. It's a huge market, the language is English and there are few barriers to trade (even with the current moves towards protectionism).
It's also relatively easy to set up and run a business, though the amount of bureaucracy can be surprising. But first you need to decide where to go and what to do, and that's where you're likely to need help.
A lot of companies, especially manufacturers, are reluctant to invest in setting up overseas subsidiaries and prefer to find distributors and agents. However, of all the countries in the world, the USA is the one where this is a bad idea. Most larger companies expect – and many actually require – their vendors to be based in the US. If you want to compete seriously on RFPs, you'll need a US company with a US office, even if you don't have any permanent US personnel.
My own experience highlights issues to avoid 
Looking back, I certainly wish I'd had some help when I set up my first American company, back in 2000. It's what I might term a Shotgun Company – basically, I had the carrot of a huge contract dangling before my eyes, but contingent on the ultimatum of having to have a US company set up and trading in a maximum of 3 weeks.
There weren't any obvious sources of help around then, other than expensive lawyers that we couldn't afford. I figured that as the client was based in Chicago, that was the obvious place to open up, so I literally caught the next flight there.
Apart from choosing to be near where your major clients will be, I'd advise picking a hub city with lots of direct flights, not only to get there and back (and you'll be doing that very often) but to get around the country too.
So Chicago worked for me, but the right location for you will likely be different – and it's worth taking time, if you have it, and advice to decide.
This being when the internet was in its infancy, and only accessible through slow dial-up connections, I made my first stop the Chicago Public Library, where I looked for useful books. Unfortunately there wasn't a single volume DIY manual (think "US subsidiaries for Dummies") but, fairly quickly, I worked out what to do.
First I had to decide what kind of company (there are many types, each with their own advantages and disadvantages) and which state to incorporate in – which is where one starts to discover the nuances of State and Federal law and the differences between those 50 states. Like most, I elected to incorporate in Delaware. While it's one of the smallest and least-visited states (most Americans I meet can't even find it on the map) it has by far the largest number of companies – around 65% of publicly quoted ones, and maybe 90% of start-ups. This is all down to its low taxes and relaxed business laws.
Once you've decided on your company structure – and I urge you to get advice before you do – it's straightforward to get the company formed; there are plenty of agents who can do that, and they compete on fees. But it's only the start.
Few of the companies incorporated in Delaware actually trade there. To operate in another State, the company needs a licence – and quite probably a city licence too.
That's where I hit my Catch-22 moment. To get the licences I needed a tax ID – and that was going to take up to 6 weeks to come through. By now I only had 2 weeks left to get up and running. I'm not going to tell you how I got around that – let's call it a trade secret – but snags like that really emphasise the need for practical on-the-ground help, even if you're not up against a deadline as I was.
There's plenty more things to consider. You'll need a bank account, an office, probably some employees…  It can all be done, even in 3 weeks (and even less now) if necessary.
But don't get stressed or make the mistakes I made, get help from someone who has done it before.
My profession now is advising others on setting up their own businesses abroad, but I'd almost forgotten my first US venture until I was reminded by meeting Gary Leskun of Cross Border Partners who has really vast experience. You can hear my conversation with Gary on the Grow through International Expansion podcast here.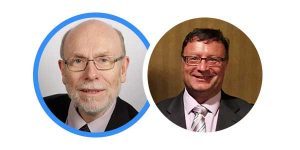 If you'd like to discuss international expansion to the USA or any other country, Oliver Dowson offers growinternational.org subscribers free introductory consultations – just get in touch via our contact page